Here's a delicious side to go with last weeks Lettuce Wraps!
I found it in Saveur's May 2011 magazine. (and by the way when did this mag get so awesome?)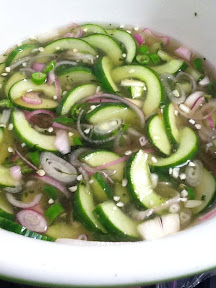 Ajad: Thai Cucumber Relish
1/4 C Raw Sugar
1/4 C White Vinegar
1/4 t. Salt
2 T Cilantro
1/4 Fresh Chile Pepper
4 Thinly sliced Shallots
1 Cucumber sliced and quartered
Mix sugar, vinegar and salt into 1 C boiling water. When sugar has melted, chill in fridge.
Combine remaining and allow to pickle in the fridge.
- Posted using BlogPress from my iPad